Blogs > Liberty and Power > Black Titan
Jan 19, 2005 4:26 pm

Black Titan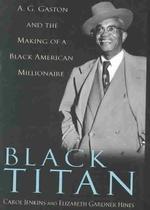 Hugh Pearson of
NYAge.net
has a review of
Black Titan: A.G. Gaston and the Making of a Black American Millionaire
by Elizabeth Gardner Hines. Pearson is the author the fascinating
Shadow of the Panther: Huey Newton and the Price of Black Power in America
, which readers of Liberty and Power are sure to enjoy. In his review of Black Titan, he writes:
Gaston saw a weakness to the civil rights movement that other prosperous African American men like him saw as well: lack of focus on the importance of economic prosperity; the tendency, to this very day, of civil rights leaders to lead marches where time and time again the slogans include cries like,"Give us jobs!" rather than emphasizing that African Americans should think more like entrepreneurs and place a greater emphasis on being well-educated.
Read the rest here.

comments powered by

Disqus
---
More Comments:
---
David Timothy Beito - 1/20/2005
I agree with you about Under the Knife. Pearson is an elegant, clear stylist who is a good sense of narrative, drama, and nuance. In my research for Mississippi, I found examples of black doctors performing abortions on members of the white elite.

I know for sure that Pearson knows about Schuyler because I sent him some of my blogs on the subject.
---
Kenneth R Gregg - 1/19/2005
Good for him! Pearson is a fine writer who has clearly found a specific niche in describing successful african-americans. His biography of his uncle in "Under the Knife" is another example, and I like the material in his website NYAge.net (at this point, I'm tempted to ask if he has knows about Schuyler, but going to bite my lip before everyone thinks/knows I've become obsessed with him!).

Just a thought.
Just Ken
kgregglv@cox.net