Mark A LeVine
---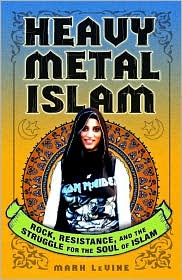 Mr. LeVine is professor of modern Middle Eastern history, culture, and Islamic studies at the University of California, Irvine, and author of the forthcoming books: Heavy Metal Islam: Rock Religion and the Struggle for the Soul of Islam (Random House/Three Rivers Press, July 8, 2008), and An Impossible Peace: Oslo and the Burdens of History (Zed Books, in press). He is also author of Why They Don't Hate Us: Lifting the Veil on the Axis of Evil (Oneworld Publications, 2005), and Overthrowing Geography: Jaffa, Tel Aviv and the Struggle for Palestine, 1880-1948 (California, 2005), and co-editor of Reapproaching Borders: New Perspectives on the Study of Israel-Palestine (Rowman Littlefield, 2007), Religion, Social Practices and Contested Hegemonies: Reconstructing the Public Sphere in Muslim Majority Societies (Palgrave, 2005) and with Viggo Mortensen and Pilar Perez, of Twilight of Empire: Responses to Occupation.
Click here to access his homepage.
Note: This post was co-written with my colleague at UC Irvine, historian of Vietnam Charles Wheeler, author of the forthcoming "The Ecology of Expansion: Hoi An Seaport in the Creation of a Vietnamese Region."
Newspapers are running analyses asserting it. Politicians ran election campaigns arguing it. The public increasingly believes it; and even President Bush has been forced to admit it: Iraq is becoming another Vietnam.
Or is it? The increasing frequency of the comparisons between the two conflicts indicates the gravity of the situation in which the United States finds itself in Iraq today. But as historical analogies go, the Iraq-Vietnam equation obscures far more than it clarifies America's problems in Iraq.

To begin with, the nature of the insurgencies in each country is quite distinct. The unified, hierarchical nature of the Viet Cong insurgency could not differ more from an Iraqi insurgency that seems...
---
Tuesday, December 26, 2006 - 15:39
---
Just a quick blog as I'm off to Egypt, Israel/Palestine and Lebanon for a few weeks and likely won't have the ability to blog from there.

With the Democratic victories last month in both houses of Congress, people began to assume that the withdrawal from Iraq wasn't far behind. But of course that was wishful thinking. Apparently, as the NY Times reported on Dec. 1, "the only consensus" is that we're not in fact leaving any time soon.

Is anyone surprised here? This kind of good cop bad cop act between Democrats and Republicans would be amusing if it wasn't so immoral and disastrous. More incredible is how the public has seemingly fallen back asleep already, content that with the "message" of last month given to Congress, things will go better now. But it's only going to get worse.

I'll explore just how it will get worse when I'm back from the region.
---
Monday, December 4, 2006 - 02:59
---