Mark A LeVine
---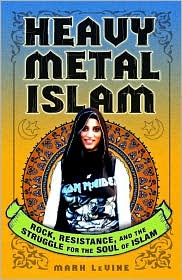 Mr. LeVine is professor of modern Middle Eastern history, culture, and Islamic studies at the University of California, Irvine, and author of the forthcoming books: Heavy Metal Islam: Rock Religion and the Struggle for the Soul of Islam (Random House/Three Rivers Press, July 8, 2008), and An Impossible Peace: Oslo and the Burdens of History (Zed Books, in press). He is also author of Why They Don't Hate Us: Lifting the Veil on the Axis of Evil (Oneworld Publications, 2005), and Overthrowing Geography: Jaffa, Tel Aviv and the Struggle for Palestine, 1880-1948 (California, 2005), and co-editor of Reapproaching Borders: New Perspectives on the Study of Israel-Palestine (Rowman Littlefield, 2007), Religion, Social Practices and Contested Hegemonies: Reconstructing the Public Sphere in Muslim Majority Societies (Palgrave, 2005) and with Viggo Mortensen and Pilar Perez, of Twilight of Empire: Responses to Occupation.
Click here to access his homepage.
"Hyper-modern," "cybaritic," "secular," "normal." In the 100 years since its creation on April 11, 1909, Tel Aviv has been described in many ways. But rarely if ever has Arab been among them.
The city's identity has been profoundly Jewish and Zionist since its creation in 1909. The name Tel Aviv was taken from the Hebrew title of Theodor Herzl's 1902 novel, Altneuland ("Old-New Land," or "Hill of Spring" in English). Designed initially as a garden suburb of the rapidly developing town of Jaffa, Tel Aviv was from its establishment the preeminent symbol of the rebirth of a modern, secular Jewish nation in Palestine.
Specifically, Tel Aviv's leaders sought to create a space that was "modern, Jewish, urban... [and] European," one where Jews "would not follow the ways of the goyim [non-Jews]." Towards that end, the bylaws forbid the sale of property to non-Jews. Both the neighborhood—and within a few years after World War I, city—and the "new...
---
Wednesday, April 15, 2009 - 17:20
---