12-31-69
Annette Gordon-Reed: Awarded a 2010 MacArthur Fellowship
Roundup
On September 28, 2010, The John D. and Catherine T. MacArthur Foundation named legal scholar, historian, and Harvard Professor Annette Gordon-Reed as one of the recipients of the 2010 MacArthur Fellowship, known as the MacArthur"Genius" Award/Grant. This past year Gordon-Reed also received the National Humanities Medal. She won the Pulitzer Prize and Frederick Douglass Book Prize in 2009, and the National Book Award in 2008 for"The Hemingses of Monticello: An American Family."
Basic Facts
Position: Professor of law at Harvard Law School, Professor of history in the Faculty of Arts and Sciences, and the Carol K. Pforzheimer Professor at the Radcliffe Institute for Advanced Study, Havard University, July 2010--
Area of Research: American Legal History, American Slavery and the Law
Education: J.D., Harvard University, 1984;
A.B., Dartmouth College in history, 1981;
honorary Doctor of Letters, Ramapo College;
honorary degree, the College of William and Mary, May 2010.
Major Publications: Gordon Reed is the author of The Hemingses of Monticello: An American Family, W.W. Norton & Co. (New York, NY), 2008.

(With others) Jubilee: The Emergence of African-American Culture, National Geographic Publishing (Washington, DC), 2003; (Editor) Race on Trial: Law and Justice in American History, Oxford University Press (New York, NY), 2002; (With Vernon E. Jordan) Vernon Can Read! A Memoir, Public Affairs (New York, NY), 2001, 2nd edition, Thorndike Press (Waterville, ME), 2002; and Thomas Jefferson and Sally Hemings: An American Controversy, University Press of Virginia (Charlottesville, VA), 1997.
Contributor to books, including Sally Hemings and Thomas Jefferson: History, Memory, and Civic Culture, University Press of Virginia, 1999; Thomas Jefferson: Genius of Liberty, Viking Press, 2000; Jefferson's Children: The Story of One American Family, Random House, 2001; and Slavery and Its Aspects, University Press of Mississippi, 2003.
Gordon-Reed also contributes to periodicals, including New York School Law Review, William and Mary Quarterly, New York Times, Washington Post, and Washington Times.
Awards: Gordon-Reed is the recipient of numerous awards and fellowships including among others:
National Humanities Medal, 2009;
Guggenheim Fellowship in the Humanities (2009);
Pulitzer Prize in history for"The Hemingses of Monticello: An American Family," 2009;
National Book Award, for nonfiction, for"The Hemingses of Monticello," 2008;
Fellowship at the Cullman Center at the New York Public Library (2010-2011);
NYLS Otto Walter Prize for best faculty publication of 1999 and 2008;
Old Dominion Fellowship at Princeton University (2002);
Columbia University's Barbara A. Black lectureship (2001);
the Trailblazer Award from the Metropolitan Black Bar Association (2001);
Best nonfiction book, Black Caucus of the American Library Association, 2001;
Bridging the Gap Award, 2000; Woman of Power and Influence award, National Organization for Women, 1999;
Anisfeld-Wolf book award for Vernon Can Read, 2002;
Association of Black Women Attorneys Achievement Award, 1988;
American History Roundtable Achievement award, 1988.
Additional Info:
Previously held position at Cahill Gordon & Reindel (law firm), New York, NY, associate; New York City Board of Correction, New York, NY, counsel; New York Law School, New York, NY, professor, 1992-2010; and Rutgers-Newark, New Jersey, Rutgers Board of Governors Professor of History, Springs 2007 until June 2010.
Quotes
By Annette Gordon-Reed
Annette Gordon-Reed, 2010 MacArthur Fellow
Annette Gordon-Reed's 2008 National Book Awards Acceptance Speech
Annette Gordon-Reed's 2008 National Book Awards Acceptance Speech from National Book Foundation on Vimeo.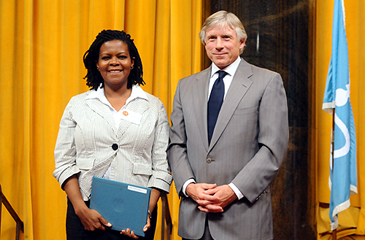 Lee C. Bollinger, President of Columbia University, presents the 2009 History prize to Annette Gordon-Reed.
"I'm enormously grateful and humbled to be given this award. Of course I've known about MacArthur fellowships for many years and wondered what it would be like to have someone call out of the blue and tell you you've won something like that. Now I know, and I have to say it's a very good feeling." -- Professor Annette Gordon-Reed wins a MacArthur Fellowship
"I am enormously pleased to become a part of the Harvard community once again. I look forward to working with the students and faculty members at the Law School and in the History Department, and to experiencing the rich interdisciplinary environment at the Radcliffe Institute." -- Annette Gordon-Reed to join the Harvard faculty
I first thought about writing this book when I was working on my first book, Thomas Jefferson and Sally Hemings: An American Controversy back in the 1990s. That book was about the historiography on the Jefferson and Hemings relationship. One of the things that bothered me was that the Hemingses, enslaved people, were treated in history books as if they had no individual identities and lives that were worth being careful about. You could give Sally Hemings a father for her children on one person's word alone—no contemporary circumstances to back up that person's assertion. There's no way to say you care about, or respect the personal dignity of a person and be that reckless with her life. It occurred to me that it was easy to dismiss enslaved people in this way because so few of the details of their lives had been written about. It's easier to be careless about people when you don't have any sense of connection to them. It's hard to have a connection, or develop a"stake" in them, when you don't know them personally. I had the idea, perhaps naïve, that I might be able to rectify this to some extent by introducing them to the American public as individuals.


Jefferson was an inveterate record-keeper. So, there is actually a good amount of information about certain members of the family. I thought,"Well, why not draw on that, along with information from other sources?" I could do something that is rarely done: present a portrait of slavery through the eyes of enslaved people. The more I looked at the record, the more convinced I became that this approach might be useful to scholars and informative to the public in general.

...I really wanted to get a sense of, and convey to readers, the way slavery worked in the day-to-day lives of people. We know what the big picture of slavery meant to the enslaved. But I wanted people to understand that this was not just the oppression of a nameless mass of people. It blighted the lives of millions of individuals in ways that we can feel, if we allow ourselves to do that. I want readers to identify with, say, Robert Hemings, who had a wife away from Monticello and wanted to be with her and their children. The tension between him and Jefferson as he negotiated his freedom so that he could join his family, I think, puts a really human face on the toll slavery took on family life. We know the poignant drama of enforced separations. But here we see a more quiet desperation: we have a husband and father using what means were at his disposal to be able to live with his family. Or Mary Hemings who asked to be sold away from Monticello to live on Main Street in Charlottesville with Thomas Bell, a prosperous white merchant who left her and their children his house and property. And then you compare them to the other enslaved people down the mountain—the majority of people at Monticello—who had few real chances to affect their lives in meaningful ways. We see the differences in individual circumstances while understanding that there was no"good" or"easy" way to be enslaved.... -- Excerpted from: Annette Gordon-Reed, The Hemingses of Monticello: An American Family Interview conducted by Meehan Crist, National Book Foundation, 2008
About Annette Gordon-Reed
Annette Gordon-Reed is a legal scholar and historian whose persistent investigation into the life of an iconic American president has dramatically changed the course of Jeffersonian scholarship. Fascinated from childhood by the Jefferson family, Gordon-Reed began a comprehensive re-examination of the evidence about the rumored committed relationship between Thomas Jefferson and his slave Sally Hemings. Independent of her responsibilities as a law professor, she wrote her first book, Thomas Jefferson and Sally Hemings: An American Controversy (1997). While the liaison had been widely alleged contemporaneously and since, it was also largely dismissed, then and later, by archivists and historians. Although she is not a formally trained historian, Gordon-Reed drew on her legal training to apply context and reasonable interpretation to the sparse documentation about the shared lives of her protagonists at Monticello, in London, and in Paris. After publication, An American Controversy was received skeptically by some, but her conclusions were confirmed in 1998 when DNA evidence supported the documentary evidence of Jefferson's genetic paternity. Gordon-Reed has continued her inquiry into colonial interracial relations in The Hemingses of Monticello: An American Family (2008), which follows the Hemings family through the nineteenth century and along markedly different paths of racial assimilation and integration. In disentangling the complicated history of two distinct founding families' interracial bloodlines, Gordon-Reed is shaping and enriching American history with an authentic portrayal of our colonial past. -- The John D. and Catherine T. MacArthur Foundation
For a distinguished and appropriately documented book on the history of the United States, Awarded to"The Hemingses of Monticello: An American Family," by Annette Gordon-Reed (W.W. Norton & Company), a painstaking exploration of a sprawling multi-generation slave family that casts provocative new light on the relationship between Sally Hemings and her master, Thomas Jefferson. -- Citation The 2009 Pulitzer Prize Winner History
Gordon-Reed is the first African American to win the Pulitzer Prize for history. Her book, The Hemingses of Monticello: An American Family, explores three generations of a slave family in 19th-century America, with specific attention to the relationship between President Thomas Jefferson and his slave (and suspected mistress) Sally Hemings, who was probably the mother of several of his children. -- Press Release Pulitzer Prize for Drama Honors Play About Women in Wartime Congo Biography, fiction, history, music, nonfiction, poetry winners also named, 4-23-2009
In the mesmerizing narrative of Annette Gordon-Reed's American family saga, one feels the steady accretion of convincing argument: Her book is at once a painstaking history of slavery, an unflinching gaze at the ways it has defined us, and a humane exploration of lives—grand and humble—that"our peculiar institution" conjoined. This is more than the story of Thomas Jefferson and his house slave Sally Hemings; it is a deeply moral and keenly intelligent probe of the harsh yet all-too-human world they inhabited and the bloodline they share. -- Citation 2008 National Book Award Winner, Nonfiction for"The Hemingses of Monticello: An American Family"
New York Law School Professor Wins $25,000 Frederick Douglass Book Prize: Annette Gordon-Reed, Professor of Law at New York Law School, Professor of History at Rutgers University-Newark, and Visiting Professor of Law at Harvard University, has been selected as the winner of the 2009 Frederick Douglass Book Prize, awarded for the best book written in English on slavery or abolition. Gordon-Reed won for her book, The Hemingses of Monticello: An American Family (W.W. Norton and Company). The prize is awarded by Yale University's Gilder Lehrman Center for the Study of Slavery, Resistance, and Abolition, sponsored by the Gilder Lehrman Institute of American History.
This year's finalists were selected from a field of over fifty entries by a jury of scholars that included Robert Bonner (Dartmouth College), Rita Roberts (Scripps College), and Pier Larson (Johns Hopkins University). The winner was selected by a review committee of representatives from the Gilder Lehrman Center for the Study of Slavery, Resistance and Abolition, the Gilder Lehrman Institute of American History, and Yale University.
"In Annette Gordon Reed's The Hemingses of Monticello, an enslaved Virginia family is delivered — but not disassociated — from Thomas Jefferson's well-known sexual liaison with Sally Hemings," says Bonner, the 2009 Douglass Prize Jury Chair and Associate Professor of History at Dartmouth College."The book judiciously blends the best of recent slavery scholarship with shrewd commentary on the legal structure of Chesapeake society before and after the American Revolution. Its meticulous account of the mid-eighteenth century intertwining of the black Hemingses and white Wayles families sheds new light on Jefferson's subsequent conjoining with a young female slave who was already his kin by marriage. By exploring those dynamic commitments and evasions that shaped Monticello routines, the path- breaking book provides a testament to the complexity of human relationships within slave societies and to the haphazard possibilities for both intimacy and betrayal." -- Press Release, The 2009 Douglass Prize
Annette Gordon-Reed. (Applause.) The 2009 National Humanities Medal to Annette Gordon-Reed, for important and innovative research about an American family, the Hemings of Monticello. Her narrative story about Sally Hemings and her relatives, Thomas Jefferson's slaves, brings to light a previously unrecognized chapter in the American story. (Applause.) -- Remarks by the President at Presentation of the National Humanities Medal and the National Medal of the Arts, February 25, 2010
Annette Gordon-Reed '84 to join the Harvard faculty
Harvard Law School Dean Martha Minow:"I celebrate the fact that Annette Gordon-Reed has accepted our invitation to join the Harvard Law School faculty. Her extraordinary scholarship combines intensive archival research, brilliant lawyerly analysis, and tremendous historical imagination as well as a gift for writing riveting prose. Long proud of our own graduate, we here at the law school are delighted she will join our faculty and also participate in the life of the University through affiliations with Radcliffe and the history department. Colleagues, students, and aspiring scholars rejoice over the chance to work with her as she deepens historical understanding of law, slavery, and the human experience."

Barbara J. Grosz, dean of the Radcliffe Institute for Advanced Study:"I'm thrilled that Annette Gordon-Reed will join us as the Carol K. Pforzheimer Professor at the Radcliffe Institute. I very much look forward to her participation in the Institute's Fellowship Program and the activities of our Academic Engagement Programs."

Michael D. Smith, dean of the Faculty of Arts and Sciences:"I'm very pleased that a scholar of Annette Gordon-Reed's ability and depth will be joining the History Department. And I am excited that Harvard College students will have the opportunity to learn directly from an award-winning historian and renowned legal scholar." -- Harvard Law School
"As a gifted historian, [Gordon-Reed] uses her highly informed imagination to help us understand the possible and probable motives not only in this relationship but also in the immensely fascinating associations between Jefferson and the other Hemings.... Gordon-Reed has given us an important story that is ultimately about the timeless quest for justice and human dignity." -- Sanford D. Horwitt, San Francisco Chronicle
Gordon-Reed's"deconstruction of this occluded relationship is a masterpiece of detective work. Although she employs a considerable amount of deductive reasoning, she resists facile speculation and relies on a very close reading of the surviving documentary record wedded to copious knowledge of slavery as it was practiced by members of Jefferson's social class at the time... Gordon-Reed"bravely attempts to untangle a particularly fraught question: Could genuine love exist between master and slave? With its acknowledgment that slavery's unequal balance of power 'grossly distorted' the play of human emotions, her conclusion is necessarily subtle and may not satisfy those who require monochromatic answers." -- Fergus M. Bordewich, Washington Post Book World
---
comments powered by

Disqus